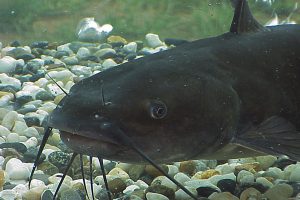 The Ohio River Valley Water Sanitation Compact states that the Ohio River should support and maintain a balanced, diverse, and healthy ecosystem. To determine if pollution control efforts have achieved this objective, ORSANCO conducts biological assessments, which include three components; fish population and macroinvertebrate population studies, and a fish tissue contaminants program.
ORSANCO conducts biological surveys in different parts of the river each year.  The results of these surveys are available as assessments that describe the status of the river in each of the focus areas.
Contact your state health department or natural resources/environmental protection agencies for current Ohio River consumption advisories.
Improvements to Ohio River water quality have provided a cleaner river for aquatic life. Population data collected during ORSANCO's yearly fish population studies evidences this progress. Electrofishing is the primary method by which fish are collected.
ORSANCO collects fish and examines the fillets for the presence of certain chemicals that may be harmful when ingested regularly by humans. Yearly results are sent to the states bordering the river. If necessary, states will issue consumption advisories, which place limits on the type and amount of fish that can safely be eaten. Chemical analysis data are also used in the biennial National Water Quality Inventory Report to Congress, or the 305(b) Report. Additionally, ORSANCO uses these data to identify and track long-term fish tissue contaminant trends.
ORSANCO uses these small water-dwelling organisms as indicators of water quality; some require good, clean water to survive and reproduce.
Biological Programs Standard Operating Procedures
Click here for the 2017 Biological Programs Standard Operating Procedures
Peer Reviewed Scientific Publications
Click here for a list of peer reviewed scientific publications