Nineteen lock and dam structures divide the Ohio River into 20 segments or pools. Each year, the ORSANCO Biological Survey Crews sample fish, macroinvertebrates and water quality parameters in selected pools. Data from these pool surveys is assessed and an assessment is prepared for the selected pools which describes its overall condition. Over the course of several years, each Ohio River pool is assessed multiple times.
These Ohio River pools are named for the lock and dam that is downstream of that pool of water. The assessments that ORSANCO creates are then named after the appropriate Ohio River pool. The assessments are available for download under Files.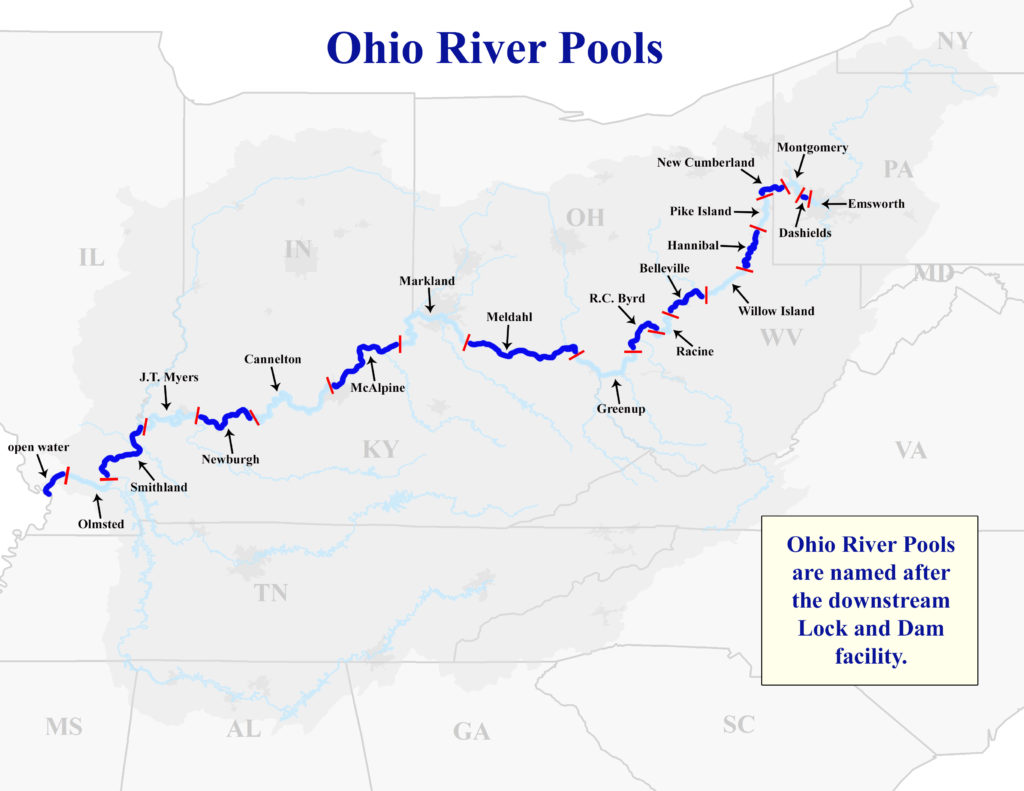 A map of the Ohio River locks and dams is provided by the US Army Corp of Engineers, which manages the locks and dams: Ohio River locks and dams.
Files
| | |
| --- | --- |
| 2019 Assessments (R.C. Byrd, Smithland) | Download |
| 2018 Assessments (Emsworth, Pike Island) | Download |
| 2017 Assessments (New Cumberland, Newburgh, Meldahl) | Download |
| 2016 Assessments: (Willow Island, Greenup, Cannelton) | Download |
| 2015 Assessments: (Montgomery, Racine, John T. Meyers) | Download |
| 2014 Assessments: (Belleville, Markland, McAlpine, Olmsted) | Download |
| 2013 Assessments: (Dashields, Hannibal, R.C. Byrd, Smithland) | Download |
| 2012 Assessments: (Emsworth, Meldahl, Pike Island, Newburgh) | Download |
| 2011 Assessments: (New Cumberland, Willow Island, Greenup, Cannelton) | Download |
| 2010 Assessments: (Montgomery, Racine, John T. Myers) | Download |
| 2009 Assessments: (Belleville, Markland, McAlpine, Open Waters) | Download |
| 2008 Assessments: (Dashields, Hannibal, RC Byrd, Smithland) | Download |
| 2007 Assessments: (Cannelton, Emsworth, Meldahl, Newburgh, Pike Island) | Download |
| 2006 Assessments: (Greenup, Montgomery, Willow Island) | Download |
| 2005 Assessments: (New Cumberland, Racine, Markland, John T. Myers) | Download |
| 2004 Assessments: (New Cumberland, Racine, Markland, John T. Myers) | Download |
| 2017: New Cumberland Pool | Download |
| 2017: Newburgh Pool | Download |
| 2017: Meldahl Pool | Download |
| 2016: Willow Island Pool | Download |
| 2016: Greenup Pool | Download |
| 2016: Cannelton Pool | Download |
| 2015: John T. Myers Pool | Download |
| 2015: Montgomery Pool | Download |
| 2015: Racine Pool | Download |
| 2014: Belleville Pool | Download |
| 2014: Olmsted Pool | Download |
| 2014: Markland Pool | Download |
| 2013: Hannibal Pool | Download |
| 2013: Robert C. Byrd Pool | Download |
| 2013: Dashields Pool | Download |
| 2013: Smithland Pool | Download |
| 2012: Meldahl Pool | Download |
| 2012: Emsworth Pool | Download |
| 2012: Newburgh Pool | Download |
| 2012: Pike Island Pool | Download |
| 2011: Greenup Pool | Download |
| 2011: Willow Island Pool | Download |
| 2010: Cannelton Pool | Download |
| 2010: New Cumberland Pool | Download |