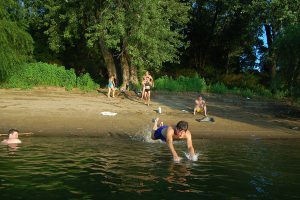 During the contact recreation season (April-October), ORSANCO monitors bacteria levels in six urban areas along the Ohio River, which are: Pittsburgh, Wheeling, Huntington, Cincinnati, Louisville, and Evansville. Samples are collected at upstream and downstream locations. Samples are analyzed for both fecal coliform and E. Coli bacteria.
Sample Locations
Ohio River at Brunot Island, Mile 1.4
Ohio River at Davis and Neville Islands, Mile 4.3
Ohio River at Wheeling Water, Mile 86.8
Ohio River at 48th Street Boat Club, Mile 92.8
Ohio River at Guyan Marina, Mile 305.1
Ohio River at Kosmos Cement Company, Mile 314.8
Ohio River at California Yatch Club, Mile 462.6
Ohio River at Serpentine Wall, Mile 470.0
Ohio River at Anderson Ferry, Mile 477.5
Ohio River at Louisville Water, Mile 594.0
Ohio River at Greenwood Road Public Access, Mile 619.3
Ohio River at Evansville Water, Mile 791.5
Ohio River at Bristol-Myers, Mile 793.7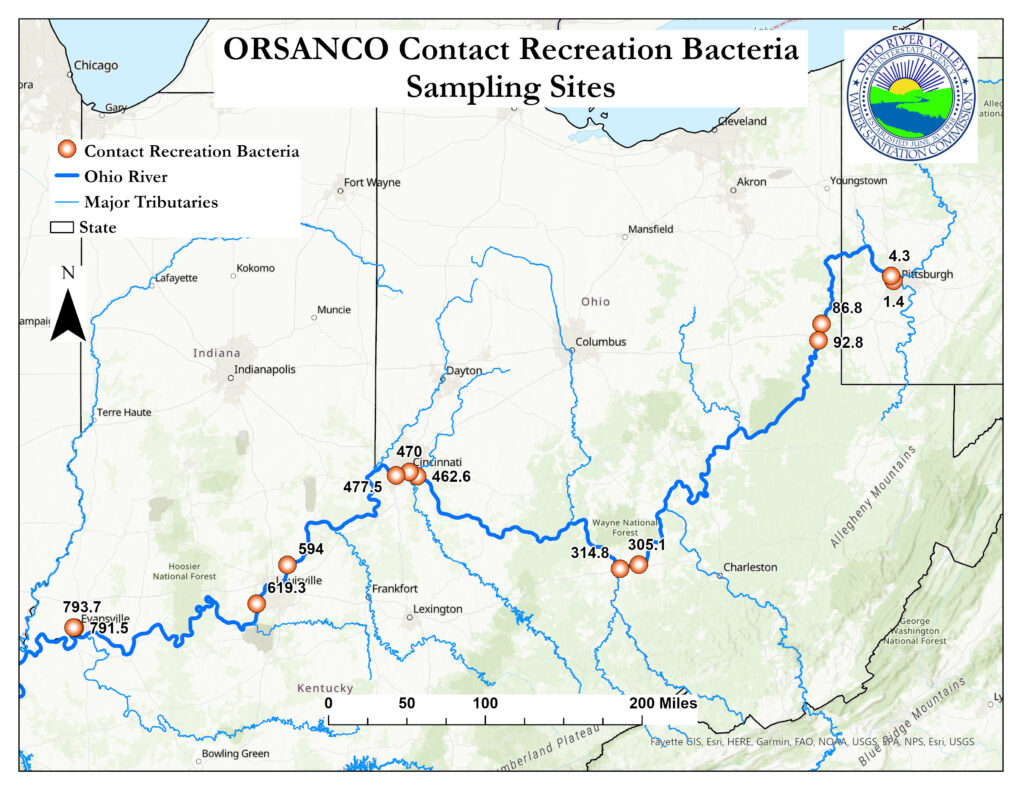 Grab Sample Methods
Depending on the location, the grab sample is collected by one of three methods:
a surface sample is collected from the bank
a midstream surface sample is collected by boat
a grab sample is collected from the raw water intake
Longitudinal Bacteria Data
Ohio River longitudinal bacteria surveys were completed as part of the Ohio River Watershed Pollutant Reduction Program. These surveys collected samples for E. coli analysis approximately every five miles along the entire length of the Ohio River. Additional samples were collected at the mouths of over 125 direct tributaries to the Ohio River.
For more information on the Contact Recreation Bacteria program, please contact Stacey Cochran.