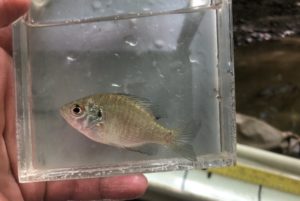 The Ohio River Valley Water Sanitation Compact states that the Ohio River should support and maintain a balanced, diverse, and healthy ecosystem. To determine if pollution control efforts have achieved this objective, ORSANCO conducts biological assessments. These biological assessments are a direct measure of the condition of a water resource at a particular location.
Fish Population
Fish population studies have been a major component of ORSANCO monitoring activities throughout the organization's history. In 1957, routine lockchamber surveys were initiated in cooperation with state and federal environmental and fisheries agencies. The methods employed, lockchamber size and structure, and sampling locations remained relatively unchanged for over 30 years. The data collected from these surveys comprise one of the largest, most comprehensive river fisheries databases in existence.
In 1990, ORSANCO added nighttime electrofishing to supplement lockchamber studies. Lockchamber sampling, while useful for providing valuable information, is very restrictive, as only 19 locks and dam facilities are located on the Ohio River for sampling. Because of this limitation, electrofishing has now become the primary method by which ORSANCO studies Ohio River fish populations. Employing these electrofishing methods, ORSANCO focuses efforts on data collection for Ohio River biological criteria (biocriteria), development, and has conducted multiple intensive surveys in each of the 20 Ohio River pools.
Improvements to Ohio River water quality have provided a cleaner environment for aquatic life. Population data collected during ORSANCO's yearly fish population studies evidences this progress.
Pool Assessments
Fish population data contributes to ORSANCO's annual Pool Assessments.
Nineteen lock and dam structures divide the Ohio River into 20 segments or pools. Each year, the ORSANCO Biological Survey Crews sample fish, macroinvertebrates and water quality parameters in selected pools. Data from these pool surveys is assessed and an assessment is prepared for the selected pools which describes its overall condition. Over the course of several years, each Ohio River pool is assessed multiple times.
These Ohio River pools are named for the lock and dam that is downstream of that pool of water. The assessments that ORSANCO creates are then named after the appropriate Ohio River pool. The assessments are available for download under Files.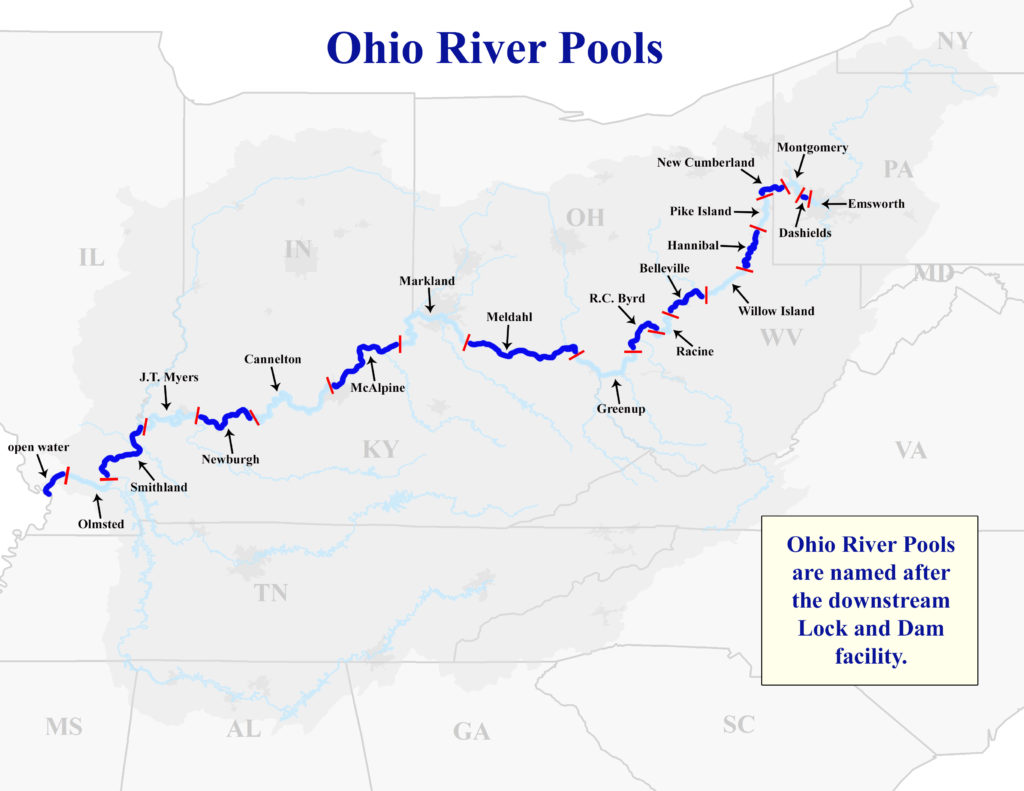 A map of the Ohio River locks and dams is provided by the US Army Corp of Engineers, which manages the locks and dams: Ohio River locks and dams.
For more information about ORSANCO's Fish Population program or the Pool Assessments, contact Daniel Cleves.
Biological Programs Standard Operating Procedures: Click here for the 2020 Biological Programs Standard Operating Procedures.
Data From This Program
Files
| | |
| --- | --- |
| 2018 Pool Assessments (Emsworth, Pike Island) | Download |
| 2017 Pool Assessments (New Cumberland, Newburgh, Meldahl) | Download |
| 2016 Pool Assessments: (Willow Island, Greenup, Cannelton) | Download |
| 2015 Pool Assessments: (Montgomery, Racine, John T. Meyers) | Download |
| 2014 Pool Assessments: (Belleville, Markland, McAlpine, Olmsted) | Download |
| 2013 Pool Assessments: (Dashields, Hannibal, R.C. Byrd, Smithland) | Download |
| 2012 Pool Assessments: (Emsworth, Meldahl, Pike Island, Newburgh) | Download |
| 2011 Pool Assessments: (New Cumberland, Willow Island, Greenup, Cannelton) | Download |
| 2010 Pool Assessments: (Montgomery, Racine, John T. Myers) | Download |
| 2009 Pool Assessments: (Belleville, Markland, McAlpine, Open Waters) | Download |
| 2008 Pool Assessments: (Dashields, Hannibal, RC Byrd, Smithland) | Download |
| 2007 Pool Assessments: (Cannelton, Emsworth, Meldahl, Newburgh, Pike Island) | Download |
| 2006 Pool Assessments: (Greenup, Montgomery, Willow Island) | Download |
| 2005 Pool Assessments: (New Cumberland, Racine, Markland, John T. Myers) | Download |
| 2004 Pool Assessments: (New Cumberland, Racine, Markland, John T. Myers) | Download |